One of the more popular Halloween costume parties this year was WhoSay's highly anticipated #Here4TheBoos Halloween Costume party, but before you roll your eyes at the name, I must personally admit, it was freakishly fun (fun facilitated by the open bar). Glee's Darren Criss, the host of the evening, dressed as a mix of a clown and serial killer, though he might have been going for a different look.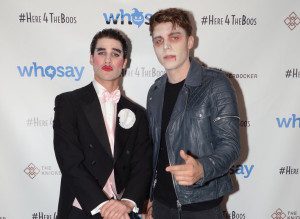 Criss' role in the hit show Glee might have come to an end, but he revealed his upcoming character on the new series of American Horror Story: Hotel. This was the first Halloween party thrown by WhoSay, the popular entertainment and rapidly growing social media company. Guest were able to post pictures throughout the night using #Here4TheBoos hashtag on Instagram, which would immediately be printed as a Polaroid at the specified station. They further encouraged guests to take pictures by passing out the famous selfie sticks because if there are two things New Yorkers love are a well-made cocktail and a perfectly angled selfie.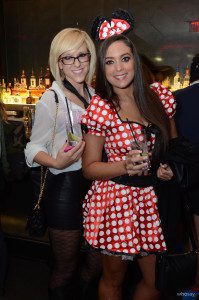 In addition to Halloween themed cocktails, there was also a candy open bar and a live funky band. Trick or treating is so old school. Other guests in attendance were Nolan Gerard Funk, Andi Dorfman, Mia Swier, Drea Wagoner, and that Sweetheart girl from Jersey Shore. (I think it is safer to say Voldemort or Bloody Mary three times in the bathroom, than any of the reality TV casts' names.) I decided to dress as Zoolander and rock out the Blue Steel. Unfortunately, this is New York City, and it doesn't need to be Halloween to see a man wearing eyeliner, with excessive gel in his hair, and tight leather clothing. I spent most of the night telling people who I was suppose to be.