Pop Style TV attended a wonderful evening hosted by DHC, Japanese beauty expert. Set up at Koi SOHO,as we sipped Japanese inspired cocktails we got a sneak peek on their hottest new products. I didn't know much about the brand but it is one of the number one sellers in Japan and it is available in the USA since the nineties.
Well here are few products that we recommend
Deep Cleansing Oil is the most popular product and number one seller from DHC line. It is rich in vitamins and anti oxidants and nourishes and hydrates for a younger looking skin.
Face wash powder  is affordable and gentle enough so it can be used daily. Powder turns into liquid and exfoliating protease enzymes are released.
A super unique and useful product are their Olive Virgin Oil Swabs. I now have them in my purse for quick fixes and runny mascara or an eyeliner. It is gentle enough and it can be used even on babies. I like that for my skin!
One of the products I tried first is DHC's Beauty lift eye roll on. It gives you a cooling sensation and a feeling of instant lift. For someone like me that always has bags under her eyes, this product is a keeper.
Their masks are great as well as depending on your problem area, there is a mask for you.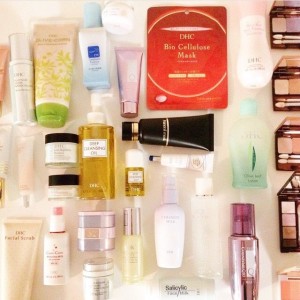 Finally, there is Gel pencil eyeliner that we had the opportunity to try at the event, applied by an expert. I probably won't be able to apply it as good as the "eyeliner experts" but one thing for sure is that my eyeliner won't smudge!