It was like a scene straight out of "The Gatsby!" Women were draped in their finest pearl necklaces and wore the most beautiful fringe and sequins dresses, some topping it off with a fancy headpiece. Men looked dapper in their collared shirts, suspenders and hats.
The Jazz Age Lawn Party is one of the most popular summer events in New York City inspired by the prohibition era! It is celebrated over two days on Governor's Island. The 1920s and 1930s party had guests enjoying sophisticated bites and vintage-inspired cocktails in a romantic, playful setting.  They were entertained  with jazz music of the era and learned some new dance steps.
Michael Arenella and his Dreamland Orchestra entertained guests with the finest music from the Jazz Age. Interesting fact is that Michael hosted Jazz Age Lawn Party back in 2005 with only fifty of his friends in attendance! Ten years later, there were over 20,000 attendees who came out to party the weekend away, Jazz style!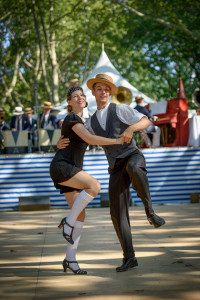 Guests learned the "Beginner Peabody Lesson" dance. The Dreamland Follies took the stage with their dance and had everyone on their feet! However, they weren't the only entertainment! Roddy Caravella & the Canarsie Wobblers also performed their jazz dances.