It might be known for croissants and romance, but in the past couple months there has only been one thing on everyone's minds- fashion.
The men's spring/summer shows for 2016 in Paris came to an end and here at Pop Style TV, we thought we would share some of our favorites.
Patterned shirts, thick-framed shades, sequin jackets, and skinny jeans? It can only be Saint Laurent.
The brand closed the 2016 spring/summer shows in Paris with a very old school L.A. style including vibrant colors, layers (fashion dictates the weather, not summer), sparkle, long hair (don't care), and Liam Gallagher in the front row.
Pop Style TV loves Hedi Slimane's collection this year- that really seems to pop.
Givenchy didn't care for layers, and instead embraced the spring/summer ambiance and featured some of the men shirtless for it's 2016 collection. No wonder Courtney Love was smiling so much in the front row.
Riccardo Tisci also paid homage to his Roman Catholicism upbringing like he has done so in the past featuring religious iconography, such as Christ emblazoned sweatshirts and tees. Additionally, just like Jesus, many of them were wearing skirts. I personally do not care for men in skirts or Jesus, our lord and savior plastered on my clothing, but Tisci also featured many stylish and comfortable looks.
Tisci also snuck in his women's Haute Couture 2015 collection, which included models Kendall Jenner and Naomi Campbell. Jenner has endured a lot of controversy regarding her presence in the fashion world, as many claim her success to be attributed to her relation to the Kardashian Empire (God protect us all). However, Kendall looks great on the Givenchy catwalk wearing a pink fringe frock, and she doesn't seem to be going away anytime soon.
Pierre Balmain spring/summer 2016 menswear collection featured more classic looks and included top models such as Sean O'Pry and Lucky Blue Smith. It featured less funky designs and more serious, solid shades and colors of the earth such as brown leathers, stone, ochre yellows and ochre browns. Caps were also very popular in this year's collection. I thought this collection was very straight forward, unique, and classic.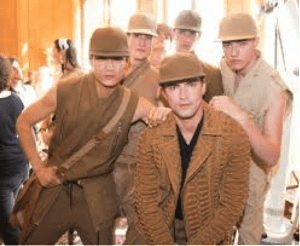 -Jamie Valentino
photos: theguardian.com, wallpaper.com