On July 14, 2015, Carolee Jewelry had their 2015 New York Holiday Preview party. Guests were invited to see their beautiful Holiday collection. The colors for the season are bright, vibrant with a touch of class and elegance. Some of the pieces are called "Cabaret," "Russian Tea Room," "Rainbow Room" and "Flower District." The jewelry fits the names perfectly! You will see emerald, sapphire, collar, rope and tassel necklaces in the upcoming season. Perfect for any occasion!
As guests sipped champagne, they toured three different rooms to see the other jewelry collections. Trina Turk displayed their fun colorful collection in a bright yellow room. There was a variety of bright pink, blue, yellow and gold pieces of jewelry which ranged from collar necklaces, earrings, rings and wrap cuffed bracelets. Guests had the pleasure of trying on any of the pieces!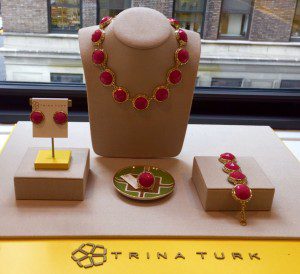 ABS by Allen Schwartz also displayed their Holiday jewelry collection. Two words to describe their pieces are BIG & BOLD! Some names of the pieces are "Dark and Stormy" and "Bitter Not Sweet." Perfect for a nice evening out!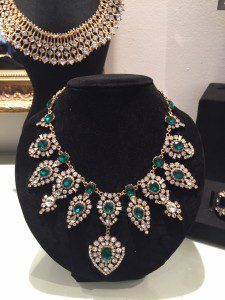 Last but not least, French Connection displayed their rocker and hip line of jewelry. The apparel theme is "Music from 1965 to 1980." They used music influences such as Jimi Hendrix, Blondie and Sex Pistols. The double wrap cuff bracelets are punk inspired, but with a modern day approach. There is a lot of black, patent leather, spikes and mismatched earrings. You will also see a lot of fringes, long pendants and tassel necklaces. Some pieces are named "Light Pink Floyd," "Blonde Has Gone Atomic," "Mick Dagger," "A Little Help From My Fringes," "The Fringe and The Fury," "Oh! You Pearly Things" and "Walk on the Wild Side." It gives you an edgy and chic vibe!
more info:Carolee