With more and more designers unifying their menswear and womenswear runway shows, as well as creating more trends like women in cargos and dressing men in skirts, gender roles are a thing of the past and fluidity is officially fashionable.
It's easy to see why Kris Harring was announced OUT Magazine's next Fashion Vanguard. When asked why she should be chosen, she answered, "The future of fashion is fluent, just like me. I'm just glad to be part of the conversation."
It was a slightly more humble answer from a fellow competitor who ended it with, "As you can see, I am already the winner." Unfortunately (for him, at least), Harring was the one to take the trophy home. What is it they say about assumptions?  
Harring will undergo a six-week mentorship to design a capsule collection for Parke & Ronen, which will be featured in an upcoming issue of OUT.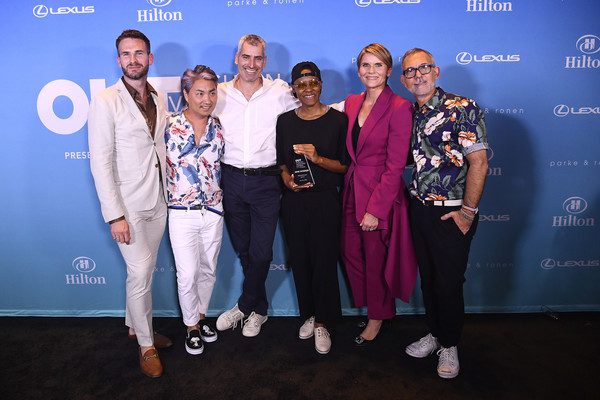 The diverse list of LGBTQ designer contestants were to incorporated Lexus' design pillars: imagination, craftsmanship, human-minded into their mini-collections. They were judged by a panel of notable individuals who definitely embody these qualities in their own respective careers, including Parke Lutter and Ronen Jehezkel of Parke & Ronen, OUT Editor in Chief Aaron Hicklin and journalist Cynthia Tenhouse of Lexus.
The event was held on Wednesday, July 25 at Stir 37, presented by Lexus and hosted by OUT Magazine Fashion and Market Editor, Michael Cook.
It's initiative is to find and inspire the next leading LGBT designers, which it makes sense being executed by the leading LGBT publication