This year marked the 10th anniversary of The Harmony Program, an organization that brings free instrumental music education to under-served communities across New York City and Long Island. This non profit organization provides free instruments, intensive music instruction, orchestral training and access and  also addresses a shortage of well-trained music teachers by preparing accomplished musicians to teach at partnering public schools and community centers. Each year, the Harmony Program provides over 150,000 hours of intensive music instruction.
On Wednesday, April 25th 2018 Harmony Program Celebrated 10th Anniversary with benefit concert in support of music education. The gala was a culmination of the dedication of the Harmony Program's students, as they played alongside Grammy-award winning violinist Joshua Bell, Grammy-award nominated producer and cuatrista Jorge Glem, New York Philharmonic principal clarinetist Anthony McGill, string trio Time for Three and soprano Larisa Martínez.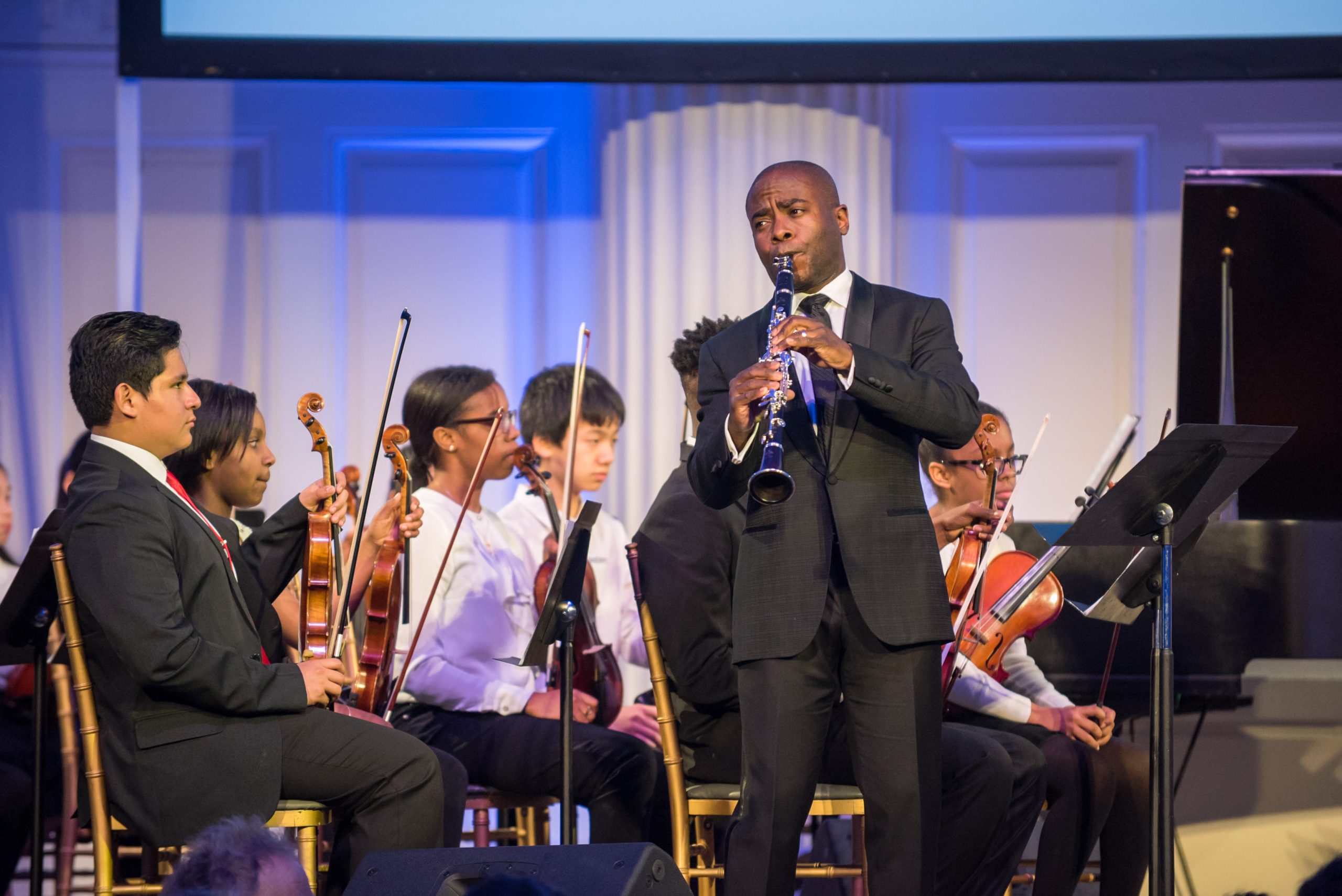 News correspondent Harry Smith was the master of the ceremony  as guests enjoyed a rich musical program. It was truly enjoyable watching 583 Park Avenue transform into a Concert Hall. Evening was kicked off with "New York, New York" and performed by Harmony Program Gala Orchestra featuring Anthony McGill, principal clarinet of the New York Philharmonic, followed by "Summertime" and "A Fidler's Fancy".
After delicious dinner, featured guests, Grammy-award nominated producer and cuatrista Jorge Glem and soprano Larisa Martínez along talented colleagues performed "Alma  Llanera" and the gala simply took off as the whole room was mesmerized by the power of melody.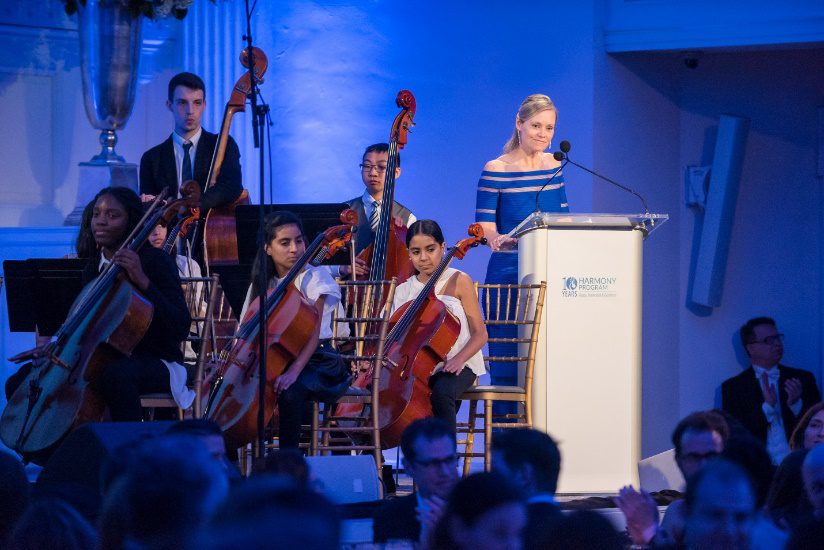 Anne Fitzgibbon, Founder, the Harmony Program
Our two favorite performances were 'Sir Duke" featuring "Time for Three" – the groundbreaking, category-shattering trio Nicolas (Nick) Kendall, violin; Charles Yang violin; and Ranaan Meyer, double bass and "Polonaise de Concert" performed by Joshua Bell, violin and Peter Dugan, piano.
The Harmony Program was created in 2003 by Anne Fitzgibbon as a pilot program within the New York City Mayor's Office. Anne was later awarded a yearlong Fulbright Fellowship in 2007 to study El Sistema, Venezuela's world-renowned national youth orchestra program, and adapted tenets of that successful model to the meet the needs of children and families in New York. In 2008, the Harmony Program established an institutional partnership with the City University of New York (CUNY), and distinguished its model of music education with an emphasis on community-based programming, uniquely intensive instruction, ensemble performance, and a formal system of teacher training.
"The Harmony Program is proud of our decade of service and of our growing community of remarkable young musicians. Their accomplishments are a testament to what can be achieved when we simply provide children with opportunities and set high expectations," said Anne Fitzgibbon, founder and Executive Director of the Harmony Program. "Our efforts, in addition to a growing body of research, continue to remind us that music can change lives in powerfully positive ways. We are so grateful to our many sponsors and partners who have helped us expand access to music education in New York."
Warner Music Group was the lead sponsor of the gala and has supported the work of Harmony Program in the past, most recently with its inaugural Warner Music Prize, which seeks to foster the talents of promising young musicians. Warner is committed to strengthening the relationship between the two organizations.
To get involved click: http://harmonyprogram.org