Bergdorf Goodman Holiday windows unveiling celebration became an official New York countdown to Christmas. At least within the "it" fashion crowd. Linda Fargo, David Hoey, Lorraine Schwartz , Fern Mallis, Lynn Yaeger, James Aguiar and many others enjoyed hot chocolate, champagne and beats by Timo Weiland at the New York City Landmark.
Bergdorf Goodman's holiday windows are a love letter to seven of New York City's cultural institutions: American Museum of Natural History, Brooklyn Academy of Music (BAM), Museum of the Moving Image, The New York Botanical Garden, New York Philharmonic, New-York Historical Society and UrbanGlass. Entitled "To New York With Love," the presentation continues the tradition of fantastical storytelling by capturing the city's appreciation for the visual arts, history, music and film.
"While exploring this theme, we knew the windows had to be dynamic and multilayered to evoke the excitement of New York today, while simultaneously celebrating the city's past. Our institutional partners provided an array of subject matter to inspire us, so we crafted a completely different type of window for each organization" – David Hoey, Senior Director of Visual Presentation
In addition to the spectacular windows, the holiday partnership between Bergdorf Goodman and these institutions has yielded one-of-a kind cultural experiences and exclusive gifts (fashion houses and designers such as Loro Piana, Adam Lippes, KITH, Lorraine Schwartz and David Webb have created pieces that will be available for purchase in store and on BG.com), providing customers with the opportunity to give back in a unique way. A percentage of the retail price from each product purchased will be donated to the corresponding institution, while each institution will receive 100% of the proceeds from each experience purchased—through Sunday, December 24.
The special holiday display will be on view along 5th Avenue in both the Women's and Men's Stores, and will include windows inspired by the following New York City Cultural Institutions:
American Museum of Natural History
In a sparkling, classical setting based on architectural features of the museum's lobby, a band of bejeweled dinosaurs encircle their ringmaster, mesmerized by her luminous presence.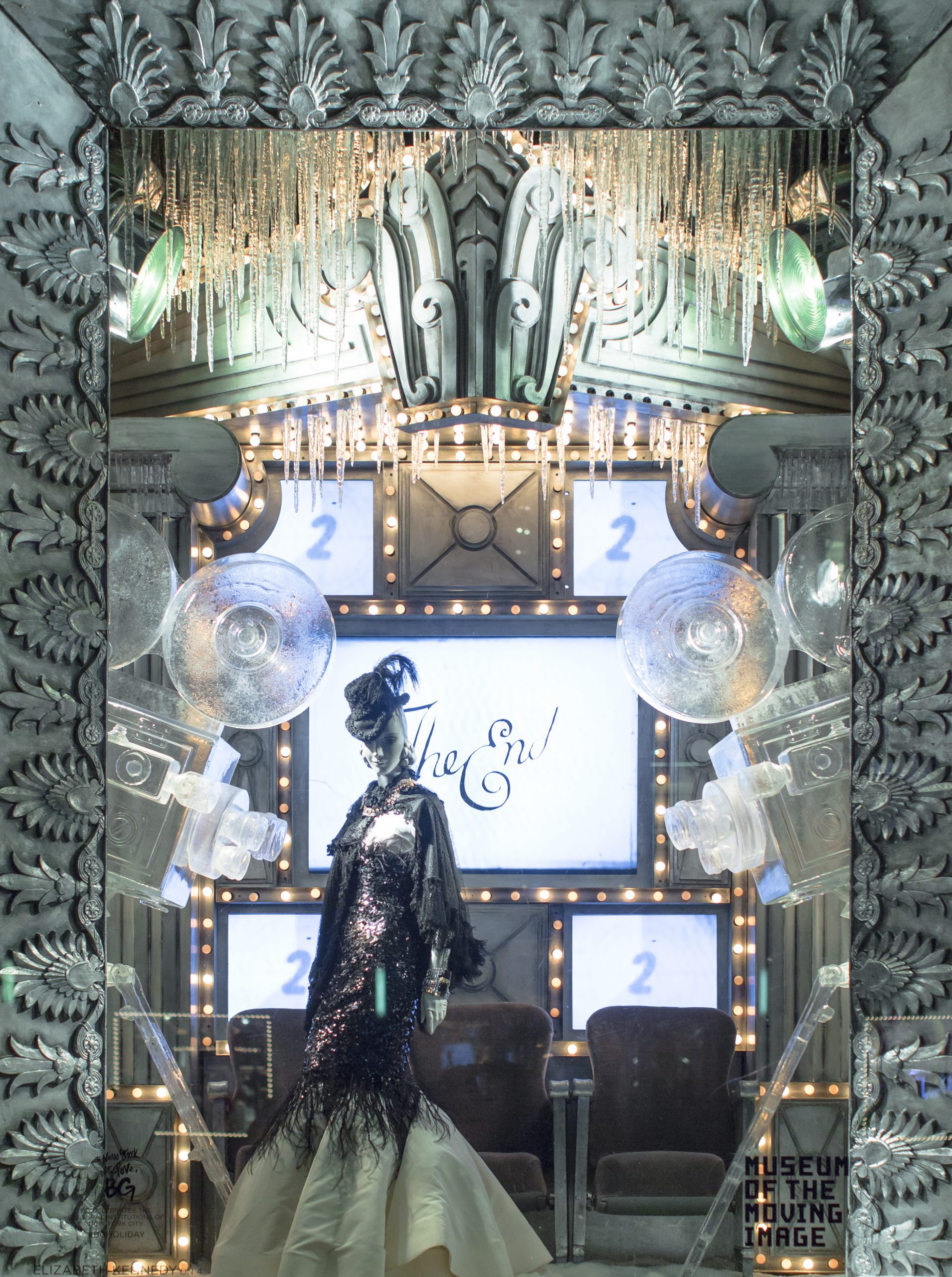 Museum of the Moving Image
This window, with its eclectic visual references, pays homage to New York City in wintertime, to the history of filmmaking, and to the allure of mid-century Hollywood. A pair of icy film cameras flanks an extravagant Art Deco movie marquee, while a dazzling large-screen montage of black-and-white film clips adds visual motion. Spotlights illuminate the leading lady who awaits her cue.
The New York Botanical Garden
As if in a dream, two gardeners rest in a surreal botanist's library, amid a proliferation of soft- sculpture plant life. Trees, plants, and flowers have been hand-rendered in a variety of fiber arts by Burke & Pryde Studio, Brooklyn. The Latin nomenclature for the flora is presented in rich multicolored graphics. The effect is at once scholarly and psychedelic.
New York Philharmonic
Standing before an astounding sculptural starburst of red neon musical instruments, a conductor leads her orchestra. The visual tempo accelerates dramatically toward a final flourish, and her audience demands an encore.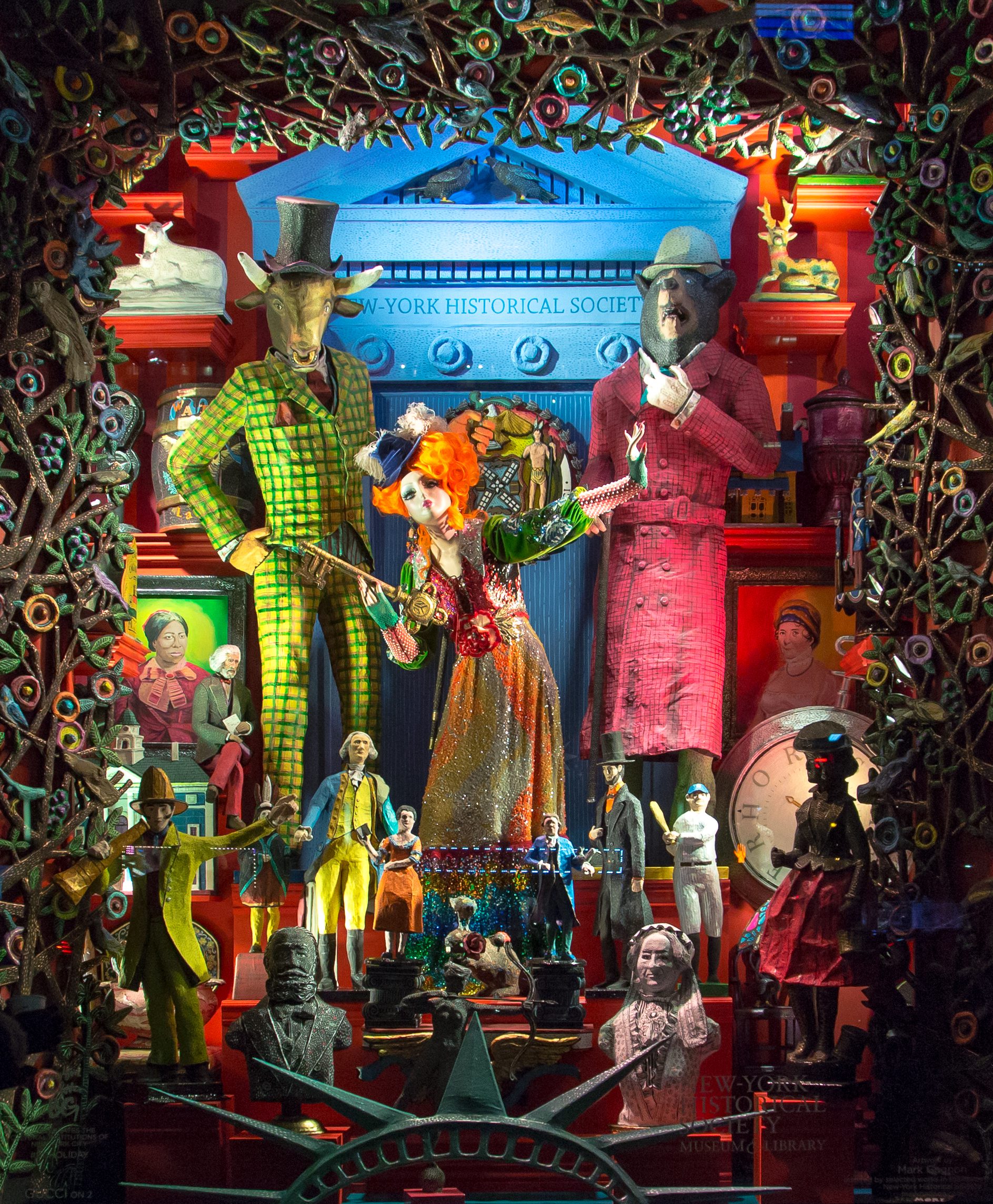 New-York Historical Society
With a key to the city in hand, a tour guide presents a trove of New York City historical artifacts, both diminutive and monumental. This ensemble of vivid papier-mâché portraits and sculptures are actually witty reinterpretations of objects from the collection of the New York Historical Society, created specifically for this window by New York artist Mark Gagnon.
MEN'S STORE
Brooklyn Academy of Music
Four window vignettes in the windows of Bergdorf Goodman Men's Store tribute to some of the art forms associated with historic Brooklyn Academy of Music (BAM): music, dance, theater, and film.