For the past several years, black has been the rage. Fashionistas everywhere proudly claimed to only have black in their closet. "Black is the new black," they said, looking at bright and uncommon colors like vampires to sunlight. Well, things have changed. And the consensus is: those people are boring. Though black ensembles are great, some of the designers this season have proven the power of eccentric hues.
Tadashi Shoji invited us on a chance trip to "where fame and fortune mix with wanderers and nomads." (As New Yorkers, we all gasped at the thought of being somewhere not invite-only.) The destination of the show was somewhere in Los Angeles, Shoji's SS18 collection featuring the mystique of Southern California and mixed the bohemian style with a New York edge. The pieces featured fun colors, floral and patterned designs, and airy dresses, which will flow perfectly behind you as you're being playfully chased by a lover in Los Angeles. It'll be much better of use there than in New York, where the only people who (not so playfully) chase us are our landlords for rent.
Middle Eastern brand
Noon

by Noor
featured a compilation of white and red ensembles. The colors were used to pay homage to the brand's heritage and Bahrain's flag. It was the bold monochromatic red looks that we especially loved, all the way to the matching bags. The looks contrasted well on the catwalk, and it served as a nice little reminder to the strong presence a powerful hue can have in a room of black and white outfits.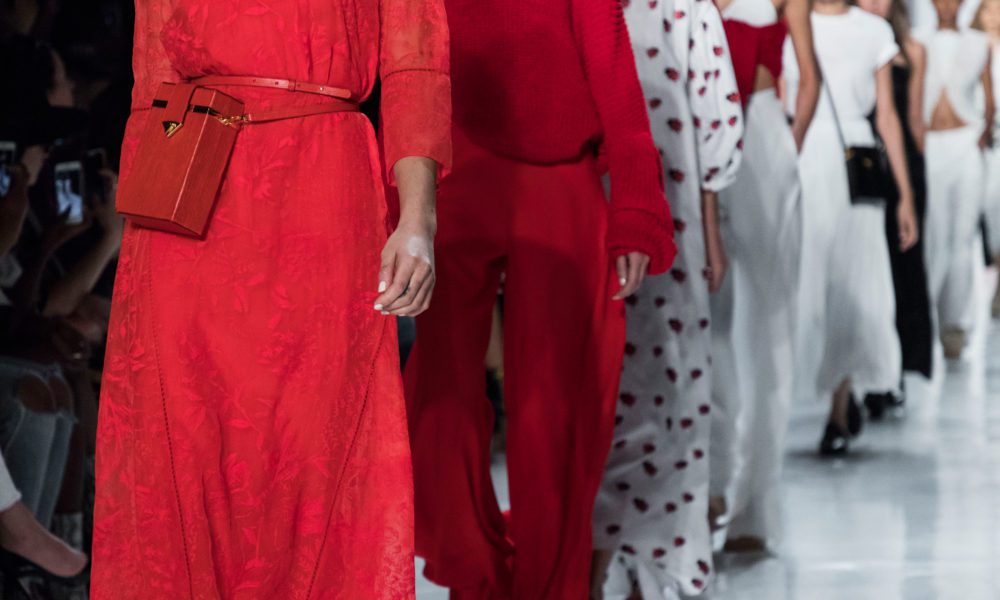 A bold color doesn't have to be the typical red or yellow. John Paul Ataker SS18 collection showcased an impressive use of ivory. Pairing the classic color with white and black, he created elegant looks bound to turn heads and drop glasses at fancy dinner parties. World famous models such as Karlie Kloss and Joan Smalls walked the show, and we couldn't decide whether we were more infatuated with them or the romantic elegance exuded by all of Ataker's garments. The show truly embodied Ataker's sophisticated style and high-quality tailoring.