Want to prolong your summer glow? Norvell's Self Tannig  MAINTENANCE SYSTEM is an all-inclusive selection of products that incorporates the core four categories of sunless care – Prime, Bronze, Optimize, and Enhance.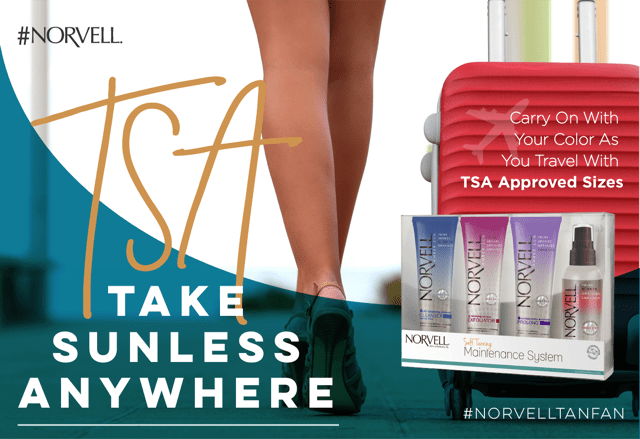 KIT INCLUDES:
pH Balancing Sunless Cleanser (2.5 oz) : This multi-tasking, sulfate free formula won't seize your spray tan while getting you fresh.
Renewing Sunless Exfoliator (2.5 oz) : This creamy, yet effective body polish is exclusively formulated with gentle micro-exfoliants for self-tanning preparation.
Sunless Color Extender ProLong (2.5 oz) : Ideal for daily use to gradually build color, or as a touch-up tool between sunless sessions.
Bronzing 4-Faces (2 oz) : Specially crafted for use as a touch-up or between tans, Bronzing 4-FACES contains a blend of instant and long lasting bronzers. Just spritz, blend with a makeup sponge, and glow.
Pre Sunless Body Buff eXmitt (Single) : A disposable mitt that is infused with a blend of gentle cleansers, moisturizers, and Norvell's xLaTan Pre Sunless treatment.
Norvell Maintenance Plan : Supplies each client with the information, instructions and
tips to make informed decisions when choosing to Sunless Tan.