The VARLI FOOD FESTIVAL hosted by master chef Sanjeev Kapoor, is the premier Indian culinary event in the United States. Featuring over 40 Indian restaurants, celebrities and chefs from all over the world and hosting specialty Chefs Stations, this is the place to be!
Feast on a world-class array of food, wine and desserts while participating in a truly rich cultural event. Also witness "The Varli Cook Off". A top chef competition. This event will also celebrate the launch of Ricky's Nationwide – Food Service Distribution and all the guests will experience VARLIWARE Industrial Furniture, Serveware & Cookware!
The Founder -Varli Singh
Born and raised across various parts of Asia and the Middle East, eclectic cuisines were a part of Varli Singh's life from the beginning. However, her move to New York City was the true kick starter of her love affair with Indian cuisine. Witnessing the passion that world-renowned chefs had for perfecting their craft and the celebrity-like following they received for creating a great dining experience, Varli developed a unique vision for changing the landscape of Indian food.
In reviewing mainstream food guides like Zagats, the New York Times, Michelin reviews, etc. Varli realized that Indian restaurateurs and chefs needed a stronger voice to receive their due recognition. The Varli vision was born with a commitment to sensationalizing the cuisines she grew up loving and ensuring everyone has the opportunity to appreciate all that these foods have to offer.
Chef Sanjeev Kapoor
The most celebrated face of Indian cuisine. He is Chef extraordinaire, runs a successful TV Channel FoodFood, hosted Khana Khazana cookery show on television for more than 17 years, author of 150+ best selling cookbooks, restaurateur and winner of several culinary awards. He is living his dream of making Indian cuisine the number one in the world and empowering women through power of cooking to become self sufficient. His recipe portal www.sanjeevkapoor.com is a complete cookery manual with a compendium of more than 10,000 tried & tested recipes, videos, articles, tips & trivia and a wealth of information on the art and craft of cooking in both English and Hindi.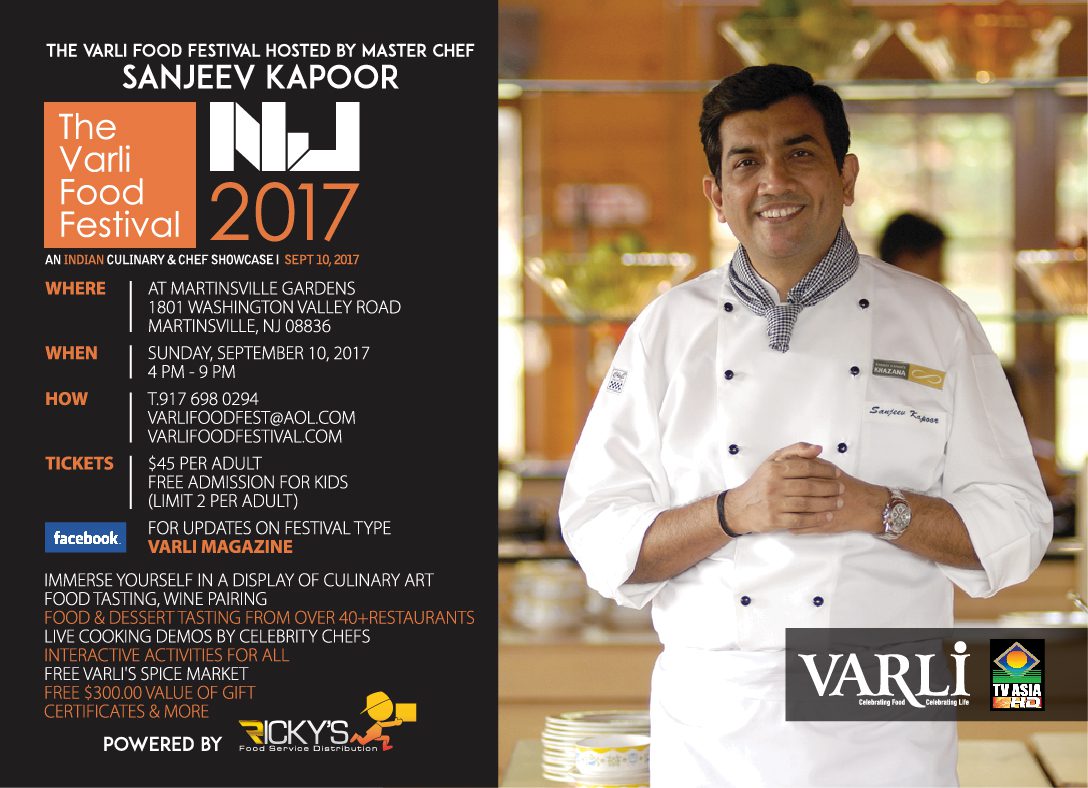 Ticket Purchase:
https://www.eventcombo.com/e/varli-food-festival-september-10-2017-28658