Pop Style TV (attempted) to dance the night away at Dancing Classrooms' Elevate Cabaret Benefit at The Angel Orensanz Foundation in New York City, to honor notable alumni.
Other guests included JW Cortes from Gotham, Chris Sullivan of This is Us, Audrey Scott from Parks and Recreation, Pedro Giraudo Tango Orchestra, Melanie Lapatin from ABC'S Dancing with the Stars, and much more.
The organization's mission is to "cultivate essential life skills in children through the art of social dance," relates Pierre Dulaine, founder, who we had the pleasure of speaking with. Pierre was a dancer himself, and was inspired to create Dancing Classrooms' to offer everyone the opportunity to learn and grow. According to him, the only thing stopping anyone from becoming a professional dancer is signing up for the first class. The night featured special performances by Flor de Toloache, an all-female Mariachi band, Tango for All dancers, Ana Padron and Diego Blanco, and most importantly, students from Dancing Classrooms', demonstrating the reason we're all there in the first place.
Despite the planned performances, with the room filled with former and still very talented alumni, there was no shortage of incredible dancing, well, except for us off in a corner, looking like Seinfeld's Elaine Benes.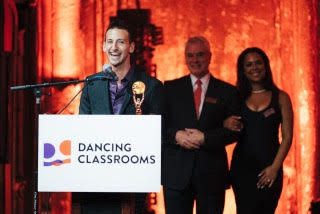 Courtney Guzman, chairwoman of Dancing Classrooms' Contemporaries, the organizers of the event, summarized the night best when she said, "I have never been more inspired than I was at ELEVATE to see members of the arts and philanthropic community come out to support an organization that powerfully transforms the lives of children through social dance.  It was an incredible evening filled with joy, music and dance and we raised over $100,000 while we were at it."