In a city full of over 8.4 million people and growing, space is a little, shall we say… tight. Which is why it's so amazing that The Chatwal Hotel fit a little bit of paradise on it's lower level. The Red Door Spa might be contained in a small space, but you'll easily get lost in the tranquility.
Enjoy the saltwater lap pool, or soothe away your troubles in the jacuzzi. The spa is also equipped with three private changing suites complete with steam showers and a relaxation lounge. The suites allow you a little privacy as you get ready and while they do not have a steam room per say, the private steam showers will do the trick nicely.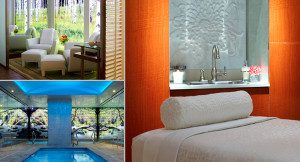 The spa offers many services from manicures and pedicures to body wraps and pools, but for a truly indulgent experience might we suggest their Red Door Signature Massage. Let the day's stress melt away with a traditional style massage with shea butter cream and foot reflexology. It's a pampering experience from head-to-toe. You'll love the heated treatment tables which will have you relaxed from the moment you lay down.
The friendly staff and serene atmosphere makes this spa a must for both out-of-towners and New Yorkers alike. Visit one of the Red Door Spa's many locations and book one of their signature treatments or try one of their seasonal Brandied Pear and Marshmallow special services.