POP Style TV had the pleasure of meeting Hallie Hart, the talented contemporary artist behind the House of Hart. Bursting with powerful vibrant art work Beautique made a perfect venue to display her latest collection "soft fluent organic lines".
She used different art mediums such as pixie glass and metals to achieve sharper lines which was important to capture, since it was Hallie first time introducing another forum of lines that weren't fluent. She said she was " putting hard lines through the soft lines to create scientific philosophy of art".
Always expressing her life experience from world travels in her abstract style of painting, she uses her preferred technique, her hands, while listing to her favorite tunes. Physical connection gives her the flexibility to capture her precise emotion. She extended her talent on to textile by creating one of a kind fashion items; accessories and apparel. Hallie is always reinventing herself while keeping her passion for art alive.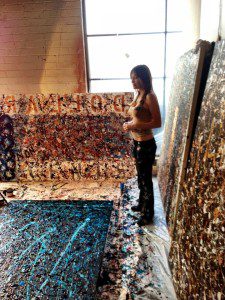 Photos taken from Hallie's Facebook Page