If we have learned anything from this New York Fashion Week, it's that a little bit of shine is the name of the game. No matter if it's full on sparkle or just a touch of metallic, it's time to have fun with your beauty look again!
Metallic Lids
"Metallic is still really big for fall, so we wanted to incorporate metallic into [the eye shadow] but in a painterly way," explains , MAC's Lead Makeup Artist backstage at Carmen Marc Valvo. "You can see with the gold criss-crosses that they aren't even, but it feels good to do it, feels good to look at it," Jennings points out. The gorgeous smokey, yet artistic eyeshadow was created to catch the light on the runway. Jennings recommends free hand drawing lines across the eyelids for an art nouveou feel.
The inspiration behind Giulietta's collection was described as "1960's tough girl with a broken heart," by lead MAC makeup artist Lyne Desnoyers. Ergo, it comes as no surprise that she choose a metallic silver as the focal point. Using MAC Pro Water Base Mixingin Medium and Silver Pigment (which was combined in a one-to-one ratio) Desnoyers was able to get eye lids that really pop. To further enhance the look, she used an eye dropper which was used in the left corner of the eye to create a metallic tear drop.
Sparkly Nails
A Glitter fade like the one Gina Edwards created for Carmen Marc Valvo using Kiss polishes, is an easy way to incorporate some glam. "Glitter is a trend you can always scale down or up. Super easy DIY… the less glitter you use the more subdued it will be. More glitter will be more intense giving you a rock and roll kind of edge. You can really carry glitter from day to night depending on how much you put on the nail," explains Edwards, who used two coats of Kiss Gel Strong nail polish in Ivory. Once that dried, she applied glitter which was brushed on by the cuticle and then sealed with a clear coat.
Designer Zang Toi is all about the drama, so it comes as no surprise that he wanted the shimmer of the snow and stars from his recent ski trip to Courchevel to be reflected in his models' manicures.
Toi choose a dark glittery polish from Zoya called Imogen. The sparkles add some depth to the dark hue for nails; you won't be able to stop starring at. Imogen is currently available as part of the Zoya for Zang Toi NYFW Trio alongside a gorgeous glittery matte white and a vibrant grape shade, Aspen and Savita, respectively.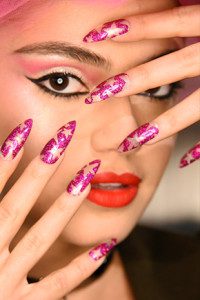 You can't talk about nail drama without mentioning CND Co-founder and Style Director Jan Arnold and The Blonds . "CND's winter 2016 trend story evokes glitter glam, dazzling jewel tones and red carpet couture, and [The Blond's show] was the perfect opportunity to tell that story with a trippy twist!" Arnolds explains. Forget about just adding a touch of glitter polish, the CND team worked for over 900 combined hours to create over-the-top designs ornamented with foils, sequins, metals, crystals, stones and much much more.
Glitter in Motion
A little motion blur can ruin everything, or when done right, it can really make a photo spectacular. At Opening Ceremony Yadim Lead Artist for Maybelline New York, used holographic contouring along different parts of the models' faces to recreate the blurred motion effect. Yadim showcased a clean face with "slashes of glitter" to show an "in-motion transformation" of a cyborg with metal peeking through the skin. While it's perhaps not the most wearable look (we can only imagine the looks you'd get from your coworkers if you sported glitter blur at work!) it certainly does make a statement.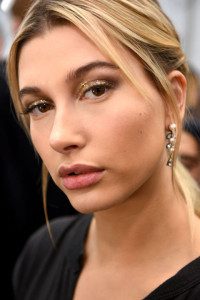 To tone the look down just a tad and still pack a glittery punch, take a cue from Rosie Assoulin who added glitter to the inner corners of the eyes or Tommy Hilfiger, who's sparkly eye lids stole the show!