Look out NYC.
Cristiano Ronaldo, the world's best soccer player and Portuguese hotel group Pestana, have announced a joint partnership to launch four new boutique hotels.
The New York City hotel will be located near Times Square, and will be open in 2017 with 400-room occupancy. The hotel will reflect Cristiano's CR7 brand, and will be done in a modern, boutique hotel style. Other locations include Lisbon (Historic Downton), Madrid (Gran Vía) and Funchal (Cruise Harbour).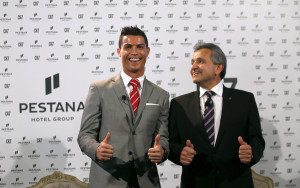 Already a  large and well-known hotel group in Portugal, The Pestana Group offers 87 properties across 16 different countries with a total of over 10,500 rooms served by 700 staff members. The first hotel was opened in Madeira Island in 1972, and the family-owned group has expanded extensively since then.