World of Mchintosh invited us to a magnificent celebration of the launch of Pryma headphones hosted at WOM Townhouse on Lafayette Street. It was easy to get to the right address as the entrance was covered in Keith Haring like drawings to get a hint of what to expect inside.
Upon our first flute of Taittinger we proceeded to take a look at the Pryma headphones. Even though excited there was a pool that distracted us a little! We weren't able to take a dip, not only because I would ruin my make up but because the pool room was surrounded by Keith Haring's original pieces from the collection of Lio Malca. After snapping few photos so we could show off on IG later, we entered the area where we could test out Pryma headphones.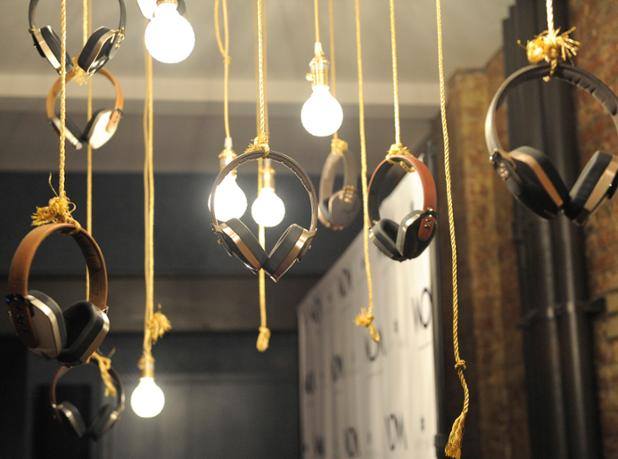 Finally a pair of headphones that match a classy, stylish outfit. Made of genuine , high quality Italian leather, with breathable microfiber interior and light weight. With copper and stainless steel buckle and interchangeable headband sound is so much more enjoyable. While striking a pose with my favorite rose gold and grey model I was introduced to Chief Design Officer of McIntosh Labs, Livio Cucuzza. Charming Italian shared his excitement about the fabulous hand crafted exterior with amazing acoustics all made in Italy. He lead us through a truly customizable Pryma experience. It provides premium sound for listening at home and it is an ideal portable headphone. Aluminum ear cup can be detached so you can share your sound with a friend. I guess I know what I'm adding to my Christmas list.
We spent the rest of the evening experiencing music and food pairings through a collaboration between Mike D, J Ralph and Phil Winser. The Fat Radish served some quite interesting dishes;bursting vodka marbles on a Hello Kitty trey was my favorite. Combined with sound the felling was very unique and made it quite an interesting (dinner) party . No complaints on unlimited Taittinger either. In case you need to add PRYMA to your Christmas list you can find more info here.