Good news for all of you chocolate lovers! Oldest chocolate house in Manhattan,Li-Lac Chocolate, is opening a new location on 162 Bleecker Street. Close to its first original location when it was first opened in 1923.
Li-lac makes artisanal chocolate in small batches using original recipes, time-honored techniques, and quality ingredients. Every delicious item is made by hand, locally in New York City (Brooklyn).There are many different options available and plenty of delicious options for anyone's taste. There are specially crafted chocolates for holidays including soon to come Halloween.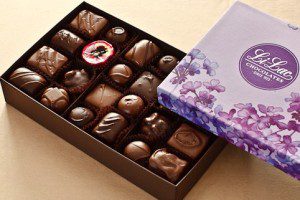 Some of their most popular chocolates are Legendary Fudge and Fresh Marzipan Acorns. Opening party with ribbon cutting is on Saturday, October 3. You can meet master chocolatier Anwar Khoder and purchase chocolate for 23 cents a piece! Now that is a bargain.
Meant for fun for all ages there will be Oompa Loompa characters present for kids and wine pairings provided by Chelsea Wine Vault,for adults.