With all the restaurants Manhattan has to offer, I don't often venture too far from my own neighborhood for a meal. However, after hearing about the opening of The Federal Bar a couple weeks ago in Brooklyn, I reloaded my subway pass. Located in Williamsburg, this gastropub offers a great selection of drinks and locally sourced cuisine. Here at Pop Style TV, we never pass up the opportunity for a good meal.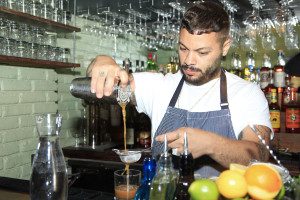 The ambiance of The Federal Bar is very business casual. My waitress' name was Jen and she is from Brazil. She was very friendly and carefully explained the specials and her own recommendations. I went with my friend- who we can call Makayla (mainly because that is her name). We started off with two glasses of wine and the Brooklyn Slate Cheese Board. Although it is Rosé season according to the girls of Instagram, Makayla and I opted for a glass of Pinot Noir and Moscato (we have more loyalty). The cheese board is sprinkled with pecans and consists of Adk Tom, Goat Cheese, and Pound Cake. It is also served with a side of house-made peach marmalade and warm bread. The Adk Tom has a rough texture and is nuttier and sharper in flavor. The taste is similar to that of a Manchego cheese. The Goat Cheese is very soft and creamy. Despite its deceiving name, the Pound Cake (warning- not actual cake) was also very good. It tasted similar to Brie. Jen from Brazil recommended putting the Goat Cheese over the bread and spreading peach marmalade on top. This must be what heaven tastes like.
For an entrée I ordered the Monkfish Bahia. Jen from Brazil recommended it (I plan to make her a lifelong friend at this point). Makayla chose the Bar Burger and added bacon. Makayla loves bacon. The monkfish is seared on a bed of white rice and swimming in a sauce of coconut milk mixed with annatto seeds, seared shallots, fennel, jalapeno, and red peppers. I don't usually like fish, but it was perfectly cooked and I would definitely order it again. The sauce is the star of the meal and I would order it as soup.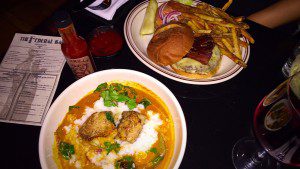 Makayla said she thoroughly enjoyed the burger. Like the fish, also perfectly cooked. She said it tasted better than the burgers her uncle Joe makes at her family reunions (this is a big deal). She had me try some of the bacon, which was crispy and tender. She wouldn't normally share bacon (she loves bacon), but she said she couldn't let me walk out without knowing how great it tasted. Jen from Brazil also served some of the house-made ketchup to go with the fries, which to be honest tasted like standard ketchup. However, it made us feel warmer inside knowing it was homemade, which adds extra love into the meal, like if grandma was cooking. We were both full by the end of our main course. Thus we couldn't try the upside down pineapple donut bread pudding, which Jen from Brazil offered for dessert. Luckily, the couple next to us ordered it. It seemed warm and gooey, with a lot more substance and character than a normal donut. At one point I thought they were taunting us.
I had a chance to talk to the Chef Brandon Doyle after who placed emphasis on his dedication to only using organic, fresh, and locally sourced ingredients. He said, "the idea behind the food was to be fun and whimsical, take kind of classic European and American traditions and have my way with them" (hopefully with consent). He added he wanted to "create some cool recipes" and "have things that people might recognize, however have interesting and unique ingredients". He also noted they are vegan and vegetarian friendly and offer dishes such as Spicy Hozon Roasted Cauliflower dish and the Vegan Burger. The chef was actually a vegan/vegetarian chef for four years of his life and said it is definitely something he is passionate about. For any aspiring chefs or individuals seeking to open up a restaurant, his advice is "it takes a lot of hard work, perseverance, and passion- for sure". For sure is right, as all three are needed to be successful in any pursuit.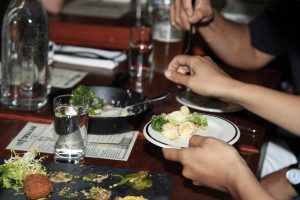 Price wise I wouldn't recommend this place to anyone on a strict college budget (thank god for dollar pizza). However, if you want to enjoy or bring a date to a great atmosphere, eat amazing and creative food, and not pay the usual outrageous prices this entails, I highly recommend it. The establishment, owned by Knitting Factory Entertainment, is located next to the Knitting Factory concert house in Williamsburg which houses local bands on a regular basis.  I walked out The Federal Bar happy.  The food portions were very generous and I was stuffed.
*photos by Dustin Sonneborn and Jamie Valentino