A few days ago Industry Kitchen, one of NY's rare open air terrace water front eateries held its Grand Opening event to a beautiful crowd. Complete with outdoor seating full bar , live music and lots of tasty hors d'oeuves to feast on. It officially opened on May 20th of this year.
The space is located on 70 South Street near the Seaport. Industry Kitchen is sure to be a your new summer brunch and date night favorite. The 5.000 square foot space has a magnificent view of the East River and airy feel that takes you out of the city. The menu is American cuisine  with special gourmet Pizza , utilizing seasonal ingredients. Our taste buds were delighted . The bar was full with tasty signature cocktails and friendly bar staff.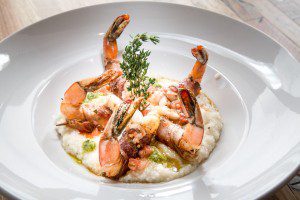 We had a chance to speak with Chef Marco Arnold about the new hot spot by the water . He suggested a snack for a non  meat eater at the event – polenta with Shrimp(modern shrimp and grits) which we found pretty divine. There were also bites of Burrito Spanish dip with peppers.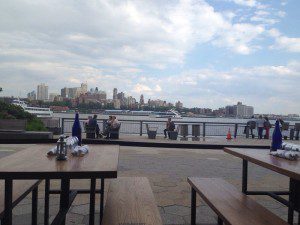 Will we be back ? For sure . Gourmet pizza is what we want to try next .The outdoor terrace is calling,  I think we have found our  new summer hang out on the water.
More about the opening : Grand Opening of Industry Kitchen NYC